Multi Recharge Distributorship
Multi Recharge Distributorship
Quick Recharge has successfully managed mobile recharge multi distributorship in the journey of 13 years and provide the latest and faster solution of mobile/DTH/Data Card recharge for recharge solution. Now, it's the time to spread the wings. We are searching for those business associates who want to earn more money along with a dedicated business support in the field of mobile recharge API partnership, retailer-ship and distributorship. Do you have an existing recharge outlet? This is the time to get some extra boost. Just fill up the form below to apply right now.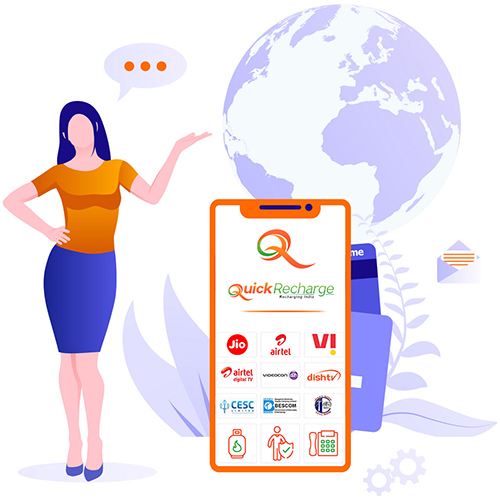 The New Business Opportunity
Quickrecharge.in offers the new and unique business opportunity for recharge solution at affordable cost. Now you can recharge Mobile/DTH/Data using only one SIM & single handset through SMS at any time at any places. As per our business name Quickrecharge, It's really quick and Easy.
Our expert professionals are highly enriched with experiences and they can easily make a better solution that your mobile recharging business will find more prosperity. API partnership or distributorship is not a matter of additional headache nowadays, but these are the efficient platforms that you will be able to achieve business goals in a faster way. For more information and API packages, just link with our professionals available for 24X7, and you will find varied business options with a mobile recharge multi distributorship.
Mobile Multi Recharge Distributorship - Who Can Join?
A Businessman
A housewife
Any retired personals
A employed, unemployed and under employed
Students Also
Master Distributor Facility
Unlimited Distributors creation allowed
Unlimited Retailers creation allowed
No minimum transaction limit
No cutoff/hold amount in account
Our Achievement
High Margin
High Recharge Success Rate - API and Lefou Based Recharge Service
Quick Support
Long time Business
Quick Support
For any queries related to the QuickRecharge.in service, feel free to write to us at: care@quickrecharge.in
Secure Your Business
Quickrecharge.in is a unit of HTSM Technologies Pvt. Ltd. which is a leading web development company